Celebrate the season
2021 Festive Lunches and Dinners
Celebrate the festive season at St Michaels with friends, colleagues and family. This year we're pleased to announce the return of our decadent Christmas lunches: the perfect festive diary date for friends, colleagues and groups. And while you're here, there's always the chance you might be tempted into our award-winning Spa.
Festive lunch - 3 courses £25 / 2 courses £19
Festive dinner - 3 courses £39
Festive Lunch/Dinner availability, 2021
23 Nov, 26 Nov, 30 Nov, 3 Dec, 7 Dec, 10 Dec, 14 Dec, 17 Dec, 21 Dec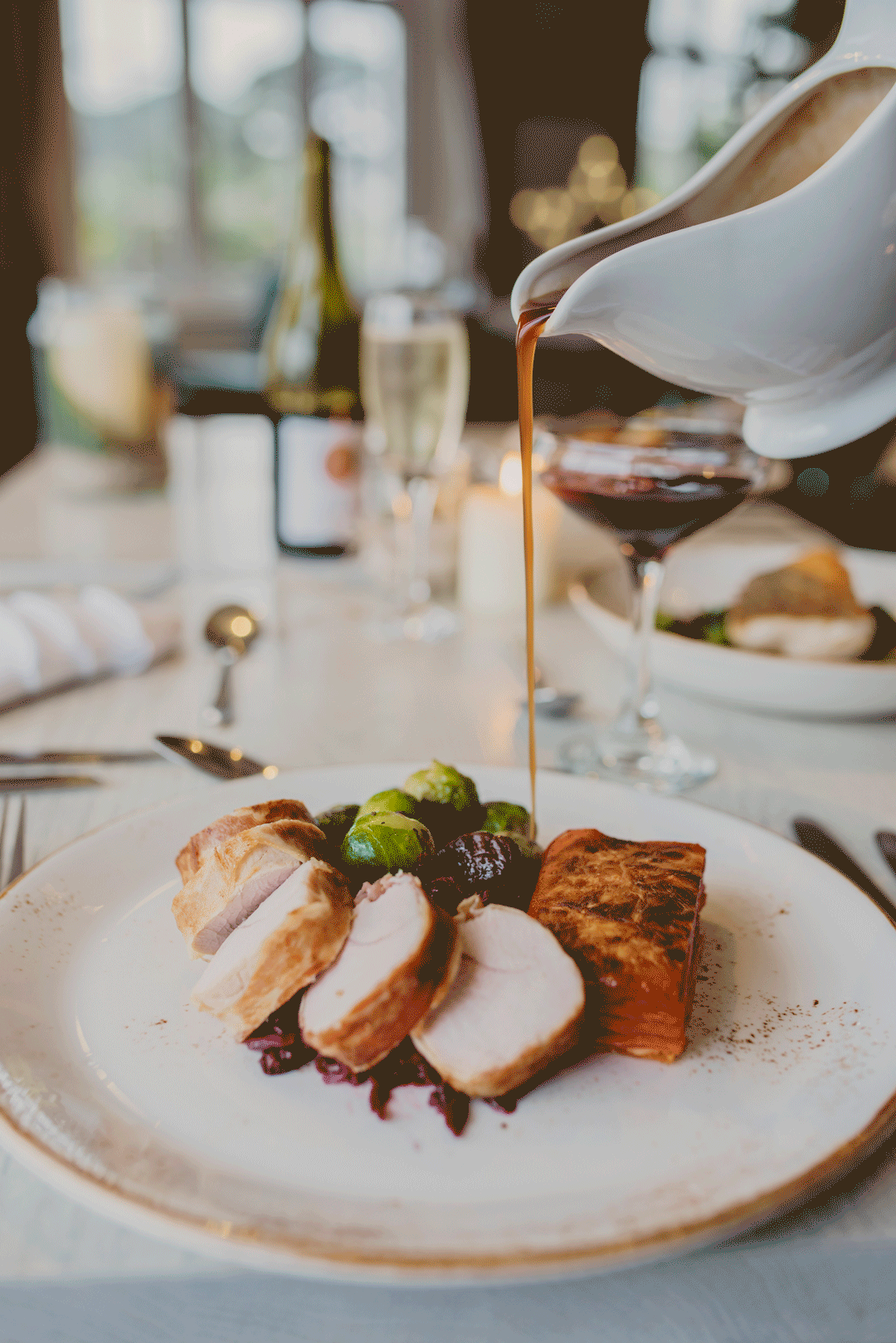 Sample Festive Lunch Menu Sample Festive Dinner Menu
(for online bookings, please confirm in the comments that you would like to book a festive meal).

Celebrate with us
Festive dinners
Our festive dinners run from late November deep into December. It's a great chance for a Christmas feast with loved ones, friends and colleagues and we've pulled out all the stops with a decadent menu studded with festive favourites, the best local produce and a very real sense of luxury in the beachside splendour of St Michaels.
Festive dinners available on Tuesdays and Fridays only, 26 Nov - 17 Dec 2021. 3 courses £39.
Tempted? Take a look at the menu
or call 01326 312707 to reserve a table
For online bookings please type festive menu in the comments section

Feasting by the sea
Christmas Lunches
Settle back and feast - it's time to gather friends and colleagues in the indulgent beachside cozyness of St Michaels where an indulgent pre-Christmas celebration awaits, complete with seasonal classics drawn from Cornwall's fields, farms and seas, and a Christmas pudding that's so rich it's sure to glaze the rest of your day with a warm glow.
Festive lunches available on Tuesdays and Fridays only, 23 Nov - 21 Dec 2021. 3 courses £25 / 2 courses £19.
For online bookings please type festive menu in the comments section
Tiers and good cheer
Festive Afternoon Tea
Sit back with a steaming mulled brew and enjoy our festive edit of the St Michaels Afternoon Tea in the sensational surroundings of the Garden Kitchen, overlooking the evergreen resort gardens and on towards the ocean. Available Sat 4 Dec, Sat 11 Dec and Sat 18 Dec only.
STAY OVERNIGHT
If you're visiting for a festive dinner celebration, why not stay overnight, slumber until morning and tuck into a full Cornish breakfast. Stay from £90 per person, including festive dinner.